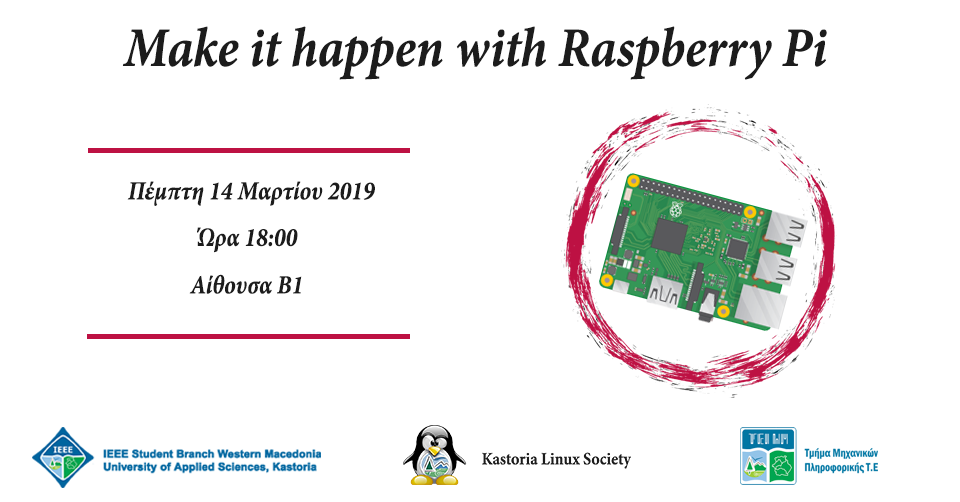 The IEEE Student Branch Western Macedonia University of Applied Sciences, Kastoria in collaboration with ELLAK. The community of the Technological Educational Institute of Western Macedonia, Informatics Engineering, are hosting in the Kastoria's institute grounds, the conference "Make it happen with Raspberry Pi". The conference will take place at Thursday 14 of March 2019 and at 18:00 in the B1 room.
In the conference will be presentations about what is Raspberry Pi, what are it's capabilities, and, there will also be a presentation about programming sensors and sending data through the internet. This way the participants will have a chance, to explore the world of DIY, (Do It Yourself), projects, Internet of Things and furthermore the world of Raspberry Pi.
The program of the conference is:
Getting to know Raspberry Pi by Christos Hitiris- Postgraduate Student at Postgraduate Program MSc in Modern Information Technologies and Services
Programming Sensors with Raspberry Pi 3 by Chatzimagkas Valantis- Postgraduate Student at Postgraduate Program MSc in Web Intelligence
We are eager to see you all joining us, in order to explore the Raspberry Pi's world together!