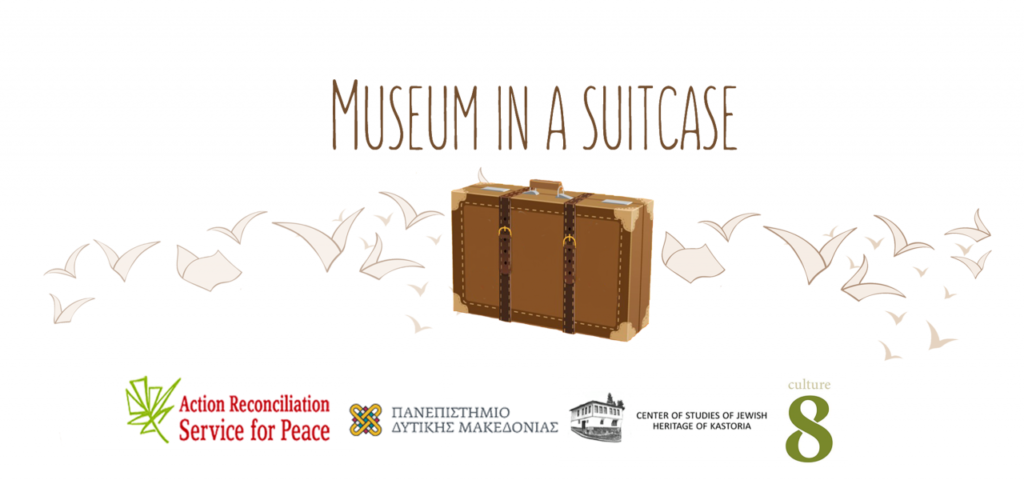 We welcomed the invitation and challenge to create a historical tool, an application for smartphones that will function as a storage, preservation and exploitation of historical issues that are in danger of being lost in the memory of modern historical memory.
Our concern was to put the issue of the memory of the lost Jewish community of Kastoria in the frame of the official historical memory of the city through an intelligent application whereby we can bridge digital technology and its applications to formulate with a new stigma the preservation of such an important identity for the city of Kastoria.
We accepted the invitation and challenge of Mrs Zorpidou and we happily present you the results of our work, bringing to life the memory of a suitcase that comes from the past to tell a forgotten thus important story of the city we are studying to, the lost Jewish Community of Kastoria.
This application is our answer to the question, we can combine new technologies with the science of preserving the past.
It is the alpha version of an application that certainly has a lot of room for future development. We have just put a basis to prove that we have an answer to the challenge of the times, and that is why we would like to thank Mrs Zorpidou for giving us the opportunity to deal with such an interesting as well as important issue called digital culture.
At this point, we would also like to thank the Summer School's team of "Action for Atonement and Peace" that gave us valuable information on the first Project of Experiential History that was drafted in 2016 and 2017, as well as Dimitris Kostaras, where without his own supervision and organization of communication with the volunteers of the summer school 2017 it would not be possible to implement the implementation.
We would also like to thank Mr. Papadamianos, President of the Kastoria Jewish Heritage Center, who offered the educational material from his archive for the realization of the educational goals and undertook the publication of the flyer included in the application.
Finally, we would like to thank our Professor, Michalas Angelos, who entrusted us with this cooperation and supported us in this effort once again.
For questions and clarifications we are at your sisposal. Thank for using our app and please send us your feedback on this app.
Team leader: Dr. Michalas Angelos
The team: Fasoula Georgia, Stavrakakis Georgios, Papadopoulou Demetra, Gola Cleopatra and Chitiris Christos.
Graphic Design: Karagianni Evangelia
President: Papadamianos Antonios
Project Coordinator: Kostaras Dimitrios
Educational Concept: Zorpidou Soultana
Github : https://github.com/ieeesbkastoria/Museum-in-a-Suitcase